South Beach Three Models to Choose From :-
48 Lamp South Beach
48-Reflector 160W
13 Min Max Exposure
Advanced Cooling System
After Tan Cooling System
Singe Phase, 220V 3 Wire Dedicated Circuit
Single Phase, 60 Amp Breaker
Single Phase. Draws 46 Amp
Hard Wired. Does Not Come With a Plug or Power Cord
For Optimal Efficiency We Recommend a Maximum Room Temperature of 75°F
Recommended A/C Tonnage 1.25
Optional 3 Phase, 220VAC 4 Wire Dedicated Circuit
3 Phase, 40 Amp Breaker
3 Phase Amp Draw 30 Amp
54-Reflector 160W
12 Min Max Exposure
Advanced Cooling System
After Tan Cooling System
Single Phase, 220V 3 Wire Dedicated Circuit
Single Phase, 60 Amp Breaker
Single Phase. Draws 52 Amp
Hard Wired. Does Not Come With a Plug or

Power Cord

For Optimal Efficiency We Recommend a Maximum Room Temperature of 75°F
Recommended A/C Tonnage 1.5
Optional 3 Phase, 220VAC 4 Wire Dedicated Circuit
3 Phase, 40 Amp Breaker
3 Phase Amp Draw 33 Amp
60-Reflector 160W
10 Min Max Exposure
Advanced Cooling System
After Tan Cooling System
Single Phase, 220V 3 Wire Dedicated Circuit
Singe Phase, 70 Amp Breaker
Single Phase. Draws 57 Amp
Hard Wired. Does Not Come With a Plug or Power Cord
For Optimal Efficiency We Recommend a Maximum Room Temperature of 75°F
Recommended A/C Tonnage 1.75
Optional 3 Phase, 220 VAC 4 Wire Dedicated Circuit
3 Phase, 50 Amp Breaker
3 Phase Amp Draw 36 Amp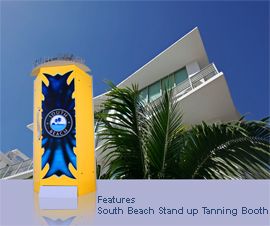 Do you have empty space in your tanning salon that could be generating tons of money? Do you need an extra value-added service for your existing clients? Or are you a health club that would just love some additional "non dues" revenue?

Well, you're in luck with the South Beach, powered by 160-watt reflector lamps. Your clients will be beating down your doors to take advantage of the convenience of this convenient tanning both – available in 48, 54 and 60 lamp configurations with exposure time of 10 to 13 minutes. And that means more profits for you!
The South Beach was engineered with every possible option so that it can work in every possible location. Eight foot ceilings? No problem! Cooling concerns? No big deal! No room to place the unit? Don't worry! We've got you covered with optional features like a low profile ceiling, exhaust capabilities, and a complete dressing room that will have you up and running in no time.

Just look at what every South Beach tanning booth – which comes wireless ready in your choice of colors and graphics -- contains:



All steel welded construction with staggered lamp configuration for years of service.


Open wide entry system.


Sound system stereo speakers.


High reflective chrome color grids.


LED courtesy light and internal emergency button.


Easy lamp access – no tools required to change the lamps.


External ballast tray to make assembly and servicing a breeze.
If you're opening a new salon, please visit How To Open A Tanning Salon for the valuable and profitable insights and resources. And, if you need more than one bed and want a volume quote – plus all the accessories to get you up and running – visit Design Your Own Salon Package. Want to visualize how your salon will look? Visit our industry-first, FREE Tanning Salon Planner. Everything you need is right here, all in one place.



Optional Features
Dressing
Room
Exhaust System Enclosure
Wireless Communication
Neon Accent Lighting
For ceilings less than 96"
Acrylic Lamp Covers
South Beach Door Graphic
Card Reader
Ready
Custom Designs
Custom Designs